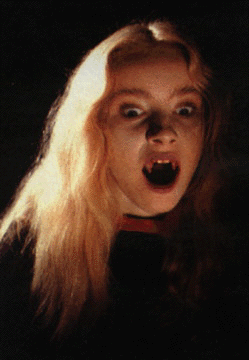 (vampire picture c/o
http://www.necronomi.com/projects/darkdesire/
the vampire woman scrap book)
Now Duke Lacrosse Private Eye: St's Blood Continued
After talking with Frankie, I mingled a little with the "pretty people" looking for a familiar face, or at least another lead on this Malcolm character.. the place was dry of info, if not dry of booze, hell even the bar tender didn't know anything.
One thing experience has told me, if there is something to be known in a place like this, it's the bar tender that'll know it.
So I left the club.
I didn't expect to get results from Frankie quite as fast as I did. And now I kinda wish I hadn't.
I was about three steps away from my car, the valet smiling big with his hand outstretched for the tip, he knew I was about to put in it, when I hear this broad across the street scream.
There was a ripping sound and a sickening thud-squish sound behind me. It startled the hell outta me, I spun to see Frankie. married to the concrete in the most intimate of ways.
Seems he had fallen from one of the higher stories in the building above, fell right through the canvas arch over the door, and landed not-too gracefully face first on the sidewalk.
I looked up to see a window closing on what I guessed to be the ninth or tenth floor. "Yea that's about high enough to make this sorta mess" I thought, darting back into the club.
Strange how entering a building is all it takes to give you a new view on life, in here nobody was aware of the mess outside, smiling faces, the band playing , dancing, shit you woulda thought that everything was fine every where, if this is all you had seen. Well things weren't okay for Frankie.. and damn it I hate having a friend rubbed out, and like it even less when I gotta see it.
I knew that there was no chance of me getting up to the 9th or 10th floor in time to catch whoever had given Frankie the acute cement poisoning, so I did the next best thing.. I waited. I waited at the bar looking at the elevator.. I waited a good long time, and it didn't move, not up or down.
"Fuck!" I knew it was a long shot, that whoever did the deed would come down the same way I had guessed Frankie went up, and now the sirens could be heard outside.
I took a quick glace to Frankie's usual spot, and there sat the dames Frankie was with.. well they didn;t have anything to do with Franco's swan dive.. (note to self: Frankie's "dates" would have nobody to fuck tonight.. humm.. if time permits, I will have to get back to that table)
Time to talk with the police, I always hated this part...
The place was crawling in cops, in no time.. there musta been six or seven cars out front, marked and unmarked.. and of course they ended the party pretty damn quick.
One of them was asking the doorman what he saw, while the valet was trying to tell him what he saw.. fuckin flatfoot.. getting the whole story from one source while, he pesters an old bastard that hadn't seen anything clearly since before the depression.. ah well, that's live in the big city. I found a detective that I had had a run in or two with before that always seemed a straight shooter, and started to fill him in. I left out the part where I had been talking to Frankie a few minutes ago. I didn't figure anyone inside would know or care who was splatter on the side walk now.. I told the detective, that the Valet may have seen more, but I doubted it, as he was even more shocked than I was, when it all happened.
I had to wonder if my talking with Frankie had anything to do with his usage of the instant elevator, but with a guy like him, you could never tell exactly who wanted to rub him out, so I decided not to loose any sleep over it. I did however decide to go talk with his dates, to see if they knew anything.. poor young empty headed girls.. without dates.. already bought and paid for.. ...
As I suspected they were no help in finding Frankie's killer.. so I asked them back to my place for a little more "interrogation".. they agreed.. (I love the dumb ones).
To be continued.....